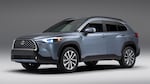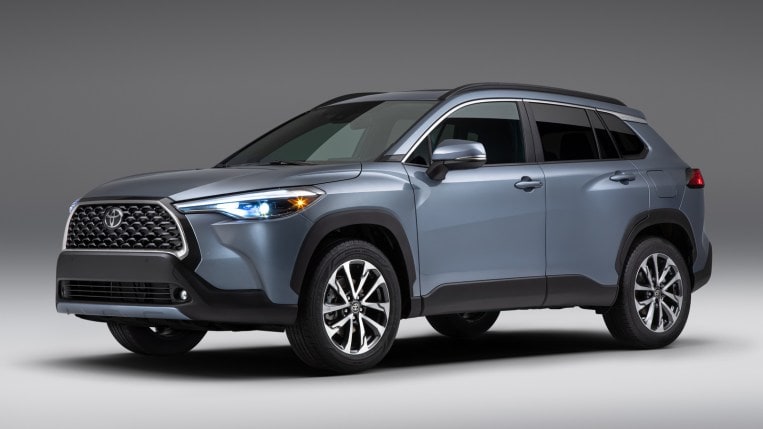 Car shopping can feel overwhelming. There are hundreds of different models of new cars for sale. Even once you've narrowed down your price range and gotten an idea of your needs, there can be dozens of reasonable choices to consider.
Finding the right model that fits into your finances for years to come, gets you where you need to go, carries everyone and everything you need to carry, and still makes you fall in love enough to give it a name (no judgment here) is a difficult, time-consuming process.
Or you could just buy a 2022 Toyota Corolla Cross.
Reviews are just starting to trickle in for Toyota's latest effort, and frankly, it may be the biggest automotive layup available.
Toyota just announced pricing on the 2022 Corolla Cross. The compact crossover will start at $22,195. Its most well-equipped trim, in all-wheel-drive, comes in at $27,625. Toyota also requires $1,215 for delivery.
It will begin reaching Toyota dealerships in just a few weeks.
The Corolla of SUVs
First things first: Yes, it's a Corolla. Toyota is keeping this very, very simple.
The Corolla compact sedan is the best-selling car in the history of cars. Toyota sold its 50 millionth Corolla sometime in July (selling another Corolla is such a humdrum occurrence that they're not even sure exactly which car put them over the mark).
The Corolla Cross is an all-new compact crossover built on the Corolla platform. It has so many Corolla parts that Toyota's press release announcing the vehicle called it "an all-new body style," not a new model.
The new vehicle shares Corolla's chassis. It employs the larger of the Corolla's two engines, a 2.0-liter 4-cylinder putting out 169 horsepower. It uses Corolla's continuously variable transmission.
Toyota says that a hybrid powertrain will be made available at a later date.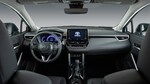 Modest Performance Changes
It differs from the Corolla mechanically in that it offers all-wheel drive (AWD), which is a $1,300 option. The Corolla Cross also has over 8 inches of ground clearance to the sedan's 5.3.
Front-drive models get a new torsion beam rear suspension. AWD models get a fully independent setup.
That's a mechanical combination unlikely to make the Corolla Cross a true off-roader but more than capable of navigating foul weather or parking in a muddy field for a concert. Easily meeting most of the needs of most people is, after all, Corolla's forte.
More Cabin Space
The Corolla Cross gives its owners 26.5 cubic feet of cargo space with the second row of seats in place and 66 with the rear seats folded. That's less than its big brother RAV4 but more than a comparably-priced Honda HR-V or Mazda CX-30.
Comfortable, Not Dazzling, Equipment List
That cabin is spacious for its class but not otherwise remarkable. Even the base L trim gets a 7-inch multimedia screen, HVAC vents for the rear seats, remote keyless entry, and standard Apple CarPlay and Android Auto. A step up to the LE adds wireless phone charging, an extra inch of screen space, 17-inch alloy wheels, a leather-wrapped steering wheel, and heated side mirrors. The top-of-the-line XLE rides on 18-inch wheels and gets a 10-way power driver seat and dual-zone climate control.
Options include an upgraded 9-speaker JBL sound system.
Standard Safety
Toyota's Safety Sense suite of active safety systems is standard on every trim level. It includes a pre-collision system with pedestrian detection, lane-departure alert, and dynamic cruise control. LE models also get blind-spot monitoring and rear cross-traffic alert. The XLE adds those, plus front and rear parking assist with automatic braking.
The Corolla has long been a solid, dependable choice for millions. A Corolla with a bit more space, a higher stance, and additional sure-footedness in bad weather will undoubtedly seem like a no-brainer to many shoppers.
The Corolla Cross enters one of the most crowded fields in the automotive market today. But that is precisely why it's a compelling offering. In a field overcrowded with choices, we could all use an easy one.
Class of 2022: All the New and Redesigned Cars, Trucks, and SUVs