▲ Keno Mario-Ghae, head of special projects at the Little Car Company, and Emily Giddings, marketing & partnerships manager, drive around the Bicester Heritage site.
Video by Emli Bendixen for Bloomberg Businessweek
At $50,000, these aren't your kid's Hot Wheels
Erwin Beerens bought his first Bugatti in 1983. Everything about the car intoxicated him, from the hue of the enamel and solid silver in the oval macaron badge to the roar of the inline eightcylinder engine. On a recent phone call from his home in Belgium, the 60-year‑old described it as a sickness: "I am a Bugatti addict."
The chief executive officer of the Beerens Group, a company that specializes in automotive sales and maintenance, Beerens has owned 11 cars from the 112-year-old French brand, including a 1,200-horsepower, $1.1 million Veyron from 2007 and an original Bugatti Type 52.
His latest acquisition is less powerful than the others and … a bit smaller. To be exact, it's three-quarters the size of the open-top Type 35 racer.
▲ Most of the components that replicate the originals, from dashboard dials and door handles to leather trim and lightweight wheels, are made and sourced in England
Photographer: Emli Bendixen for Bloomberg Businessweek
The "Bugatti Baby II" is a diminutive replica, handmade by the Little Car Co. in Oxfordshire, England. The Baby II is based on a precise digital scan of the original car—the classic Type 35 built for the 1924 French Grand Prix in Lyon. Victor of such glamorous events as Sicily's Targa Florio and Grand Prix World Championships, the Type 35 bore an overhead-cam straight-eight engine, a two-seat cockpit surrounded by round gauges, and novel alloy wheels. Fewer than 400 were made, and the best ones are now worth $3 million. Naturally, Beerens also has one of those, from 1926, in his garage.
Founded in 2019, Little Car specializes in building exact-but-shrunk re-creations of iconic cars. Shrunk, that is, including the price: Stickers can run from $37,000 to almost $80,000 depending on the level of customization. The cars share many of the same mechanical details—such as leaf springs and rotary-style shock absorbers—but are powered by lithium-ion batteries and electric motors. The Little Car fabrication shop counts 25 employees who build the novelties in an old Royal Air Force hangar 70 miles outside London. More than 90% of the debut run of 500 Baby IIs have sold, and 30 have been delivered so far.
In addition to the elements collectors loved in the original car, such as the four-spoke steering wheel and leather seating, the 13-horsepower whimsy contains modern upgrades found in conventionally sized modern cars—things like adjustable dampers, multiple power modes, and LED headlights, plus that electric motor. Regenerative braking on Brembo brakes prolongs battery life as you drive around your home track or estate grounds. (No, it's not street legal.) A special "Speed Key" unlocks the full 10-kilowatt battery power and lifts the 30-mph top-speed limiter that's otherwise engaged under lower power modes, just as a special key unlocks extra power and speed in the modern Bugatti Chiron. "This is not for babies," Beerens says. "This is for big boys."
Miniature cars for kids abound on today's market, whether a $600 working Tesla for children under 10 or the $350 Bugatti Chiron Lego kit that feels as if it requires a college degree to complete. Some call to mind the goofy go-karts that Shriners drive in local parades to the delight of young onlookers. But Little Car founder Ben Hedley, a former British Olympic team skier turned mechanical engineer, embraces more mature reasons for his new riff on the theme. "We want a new generation to want those cars," the 44-year-old says.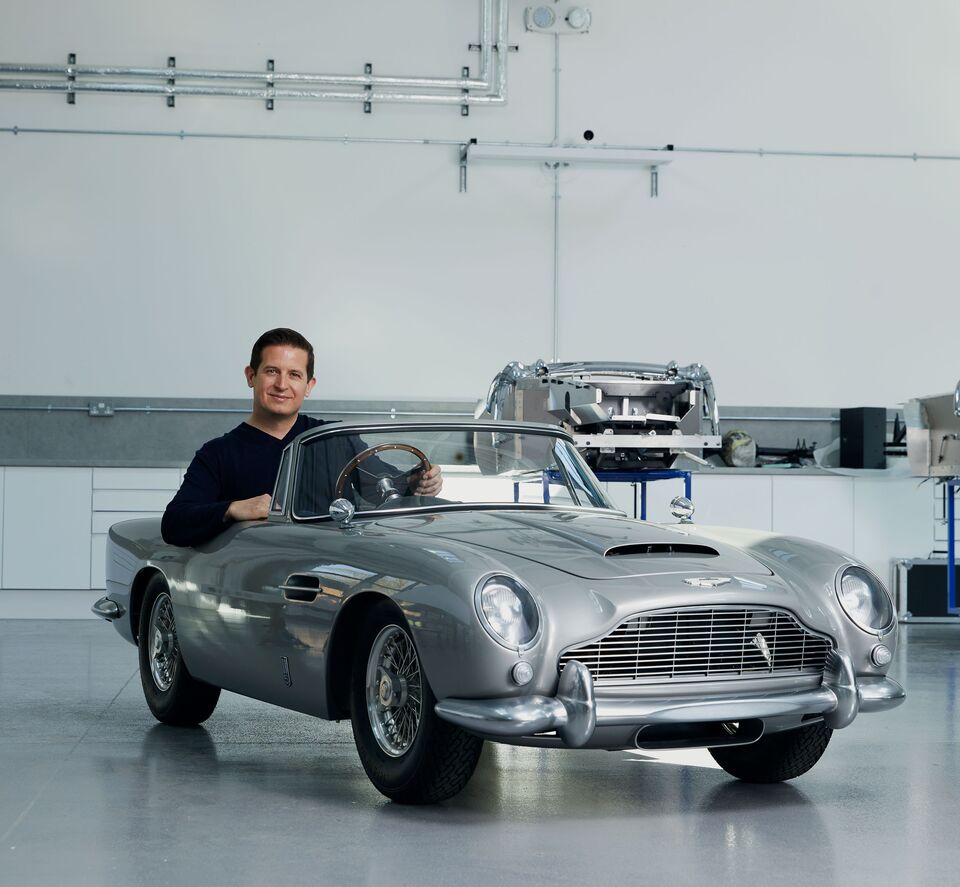 Plus, he adds, for the 40% of his clients who already own a vintage or modern Bugatti (or both), the car acts as a stop-gap between the anxiety that goes with driving the real thing—an irreplaceable collectible among the most expensive cars in history—and never having any fun with it at all.
"It was important to be bringing people cars they can actually enjoy and not worry about," Hedley says, noting that they're intended for people age 14 and up. "Many beautiful cars from the past have become too valuable to drive every day. If you've got an Aston Martin DB5 and take it out for a 1,000-mile round trip, you've just knocked $50,000 off from the value."
The DB5, James Bond's coach of choice in Goldfinger, is worth more than $1 million on average, which is why it's the inspiration for the second downsized classic Hedley's company will introduce. Fifty-eight years after the original car, the "DB5 Junior" will come in 66% scale, with rear-wheel drive, an electric powertrain, and multiple driving modes with a top speed of 50 mph. Production begins in late 2021; 1,059 will be made, starting at £35,000 ($48,600).
In fact the company will bring at least six little cars to market over the next few years, with two more announcements about partnerships with luxury automotive brands scheduled for this year, Hedley says. Each car is made in collaboration with the original equipment manufacturer (OEM, or carmaker) that bears its name; Bugatti first approached Hedley about making the Baby II back in 2018, when he was running a similar business building "junior" cars on an ad hoc basis.
Other brands, he says, have requested a little car of their own. For the automakers it's a chance to establish an early association among well-heeled drivers between the brand and having fun, even if the driver herself isn't old enough to have a license. Once OEMs see the high quality of the product, Hedley says, they're sold. "With Aston Martin, they had seen what we had done with the Bugatti Baby, and they were convinced about what we could do with the level of quality," he says.
▲ The second downsized classic is DB5 Junior, a 66% scale version of James Bond's coach of choice
Photographer: Emli Bendixen
The Bugatti Baby II will go 31 miles on one charge of its 2.8‑kilowatt-hour battery pack—or, as a recent test drive at Willow Springs International Raceway in the desert near Los Angeles proved, for two hours quietly ripping around one of America's oldest racetracks. It's easy to jump in, turn the key, press the accelerator, and go; it's not as easy to leave.
After I'd initially scoffed to myself that joyrides in glorified go-karts were rather beneath me, the Bugatti Baby II surprised and delighted with its nimble handling and responsive brakes. I found myself crouching over the steering wheel, leaning into turns like an adrenaline-crazy loon as I barreled down the track trying to beat my last lap time. Top speeds by my count neared 40 mph—not as fast as the record-setting Bugatti Chiron, the first production car to exceed 300 mph, but with its open cockpit and a ride height just inches off the ground, more than fast enough to leave even the most stoic driver grinning for the rest of the week. Myself included.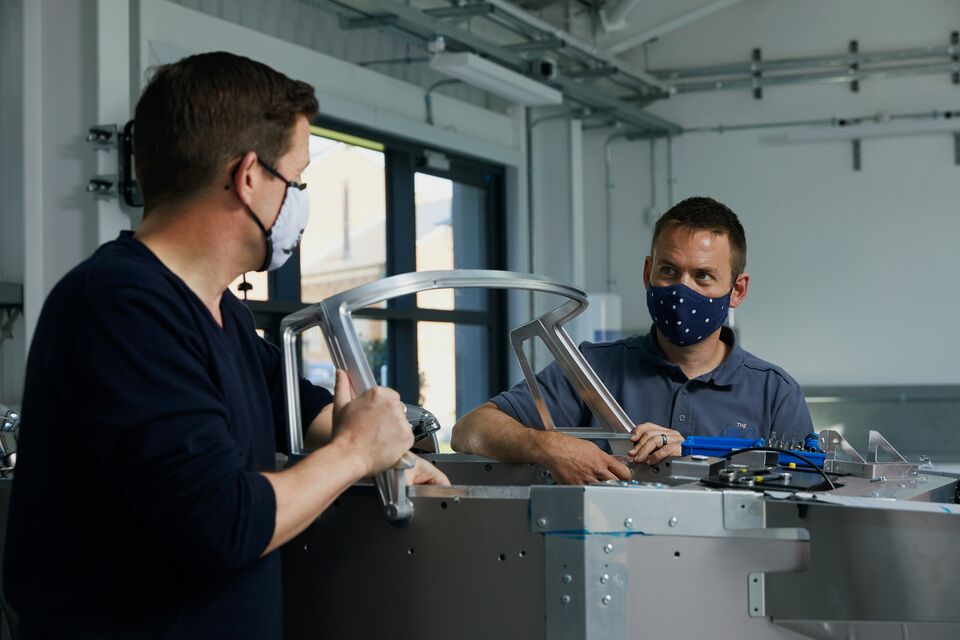 The clientele for such charming objects isn't vast. More than 90% of sales go to collectors and driving enthusiasts in England, France, Germany, and the U.S., according to the company. For some, the fun is about carefree frivolity. One owner confided to Hedley, "I just want to drive it around and pick up chicks."
For others it's familial pleasure. Back in Belgium, Beerens can hardly wait to share his new Bugatti Baby II with his first grandchild, calling it "a perfect combination" between generations. The timing couldn't be better, he says: His son will become a first-time father later this year.
"For me this is part of the history of the brand," Beerens says. He'd received his Bugatti Baby II in French Racing Blue only a week prior, among the first five of the small-scale replicas to be delivered. "You have a combination of the old, pure thing—it's quick, it's beautiful, but it's combined with new technology."
Beerens says he plans to race his Baby II around the grounds of his home and garden against two friends who also have one on order. Just don't call it a toy. The Bugatti Baby II is way too grown-up for that.