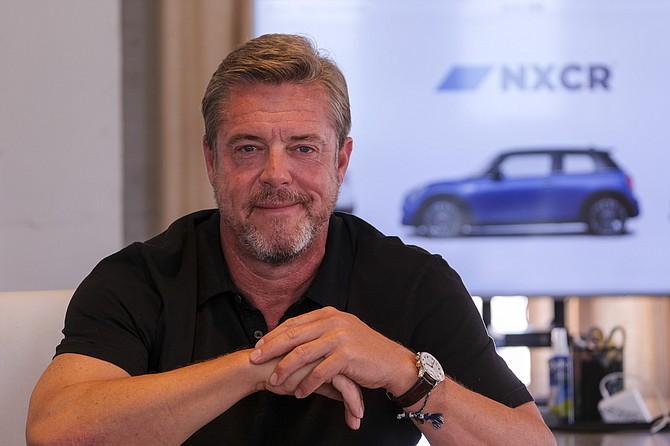 Photo by Ringo Chiu.
Painter talked with the Business Journal about lessons learned, the importance of Los Angeles to the industry and the road ahead for NXCR.
You seem to be on a mission in the automotive industry.
I think good entrepreneurs and great companies solve problems. I have had well over a dozen businesses that have been focused on trying to make buying and owning a car easier using technology. So, you might say I've got unfinished business. It's the thing that I have remained focused on. I have had a string of businesses that, to some degree, are sort of running at the exact same problem, and every time getting a little bit further along. I'm passionate about solving that problem. I understand it.
How does Los Angeles factor into your vision? 
Southern California is widely known as the car capital of the world. It's where people sort of drive who they are. Their car is their avatar. And it's where almost every manufacturer, everybody who does something novel or interesting in the car business, decides to launch their product. Southern California represents nearly 10% of the total U.S. car market. You can build a very, very big business and just stay local. I'm very much going to be committed to building companies here for a long time. It's been a pretty great place to develop car-related businesses.
What can you tell us about your new venture, NXCR? 
It's a continuation of that same mission. NXCR is pre-launch, so we do not have a product in the marketplace yet. We're sprinting right now to launch before the end of this year, and our launch city is going to be Los Angeles. There is no better place to launch a new idea.
How have your previous companies shaped your current business?
Today, virtually all dealers go to market digitally. For example, TrueCar was not just about providing an upfront price but giving people some context. We were the first company to publish what other people paid for their car. And that leveled the playing field between buyers and sellers. And it really empowered people who might have been a fearful buyer or first-time buyer. With Fair, I just took it to the next level, which was to buy a car entirely on your phone. Then we decided, "What if we bought the car? And what if we handled title, registration, sourcing negotiation, maintenance, repair, insurance, so all of the things that are natural adjacencies to owning a car, the things we know you have to do when you get a car, we bundled into a simple experience?"
So, you're still striving to perfect the cartech experience?
I feel as though we haven't yet really unlocked the magical customer experience that technology can deliver. To me, what we're building at NXCR, we're trying to create a platform where dealers and manufacturers can plug in, and any consumer can get access to totally transparent information. They don't have to go through the brain damage of negotiating or buying a car and going into debt. They can get access to mobility in a way that's very affordable, convenient and simpler.
What are your hopes for NXCR when it launches later this year?
Given that I've been going at the same problem again and again, here's what I don't need to do: I don't need to prove that there is a product market fit between subscriptions, doing it on your phone, and what humans want. We know people like subscriptions. What we need to focus on is making sure that we can do the things that will successfully scale and grow that business in a disciplined and profitable way. The key to our business working is retention. We do not want people to get a car and then move on. We want them to be a subscriber for life and as their needs change. As they move from different cities, they can change out their car. If they start a family, they can get a vehicle that's more appropriate. If they want to get something for the winter or the summer, they have that level of flexibility.
What was behind your decision to step down as chief executive at Fair in 2019? 
I'm a very authentic entrepreneur, but my business model is to create something that doesn't exist — solve a problem, hire the team, create the intellectual property and the technology stack, launch the business, raise capital along the way. And then, ultimately, I want to bring in very vetted management to run these businesses.
In the case of SoftBank it was a little bit different. Softbank is a very large investor, and they obviously recognize that the car business was an important sector for them to be in, but their primary thesis in investing in Fair was the growth of Uber. Uber needed more cars because supply and the rideshare ecosystem is drivers and cars. If you don't have enough drivers and cars, it doesn't matter how many people want to ride, you can't give them a ride. So, they needed a rideshare supply system to provide their drivers with more cars and … for a whole bunch of reasons, that was just not a healthy pivot for us in our business. I disagree with the direction they wanted to take the company in.
Sounds like the strategies no longer aligned.
We just had a divergence of what we wanted to do, and they bought the right to make some decisions that I didn't necessarily like. We're all adults, and I decided that I would step back from day to day, and I became chairman. I remain chairman of Fair, even though I'm building NXCR. And I also am a large individual shareholder.
What are the biggest lessons you've learned during your years in the industry? 
I think that the priority has to be on solving a customer's problem. And the reason why there's so much failure in auto, in particular, is because everybody understands that there is an opportunity to make a lot of money, but almost all of those things come at the cost of the customer's experience. My north star in all of these businesses has been to solve the customer's problem as the first priority — and that is what allowed us to raise capital. My job as a founder is really to make sure that that priority is established and galvanized inside of the business so that when I move on, the business still has this core focus on delivering on that promise.
What does your future look like in the automotive industry?
I'm going to continue doing exactly what I do. I have a real point of view about how buying a car should be. And I'm very good at being able to have a point of view about that, and then articulate that in a story that is enthusiastic and that gets investors and partners to rally behind that. So, I'm sort of going to just do that again. NXCR, to me, is exactly Fair, which was exactly TrueCar, which was exactly CarsDirect. All of these things just kept compounding, but to me it's Groundhog Day. I'm solving the same problem.