Welcome to Thomas Insights — every day, we publish the latest news and analysis to keep our readers up to date on what's happening in industry. Sign up here to get the day's top stories delivered straight to your inbox.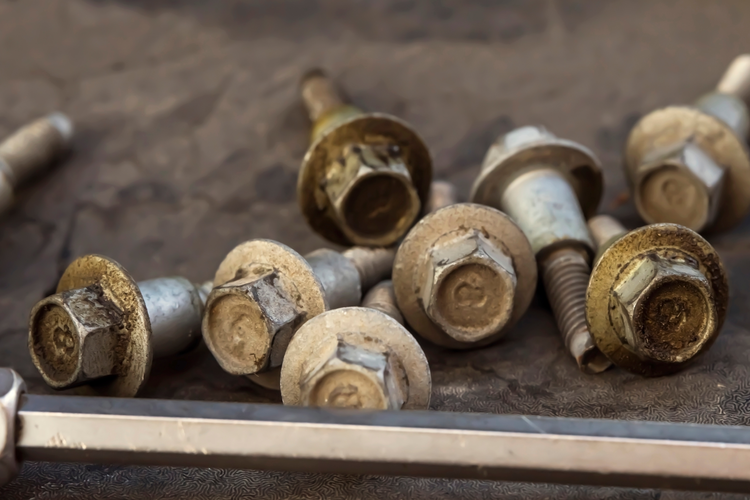 Automakers are already under a ton of heat, and it's only going to increase. Cut weight! Less maintenance! Make it quiet! Make it last! Better fuel economy! Build faster! This is quite a laundry list of demands on modern vehicles, and many of them are contradictory. It's not easy to lightweight vehicles for fuel efficiency — perhaps by trading in steel for more plastics and aluminum — while simultaneously reducing cabin noise and making it all more durable than before.
But it can be done.  And it starts with the death of the mechanical fastener.
Perhaps it's fitting that one of the most tapped resources for relief from all of this pressure is the pressure-sensitive adhesive (PSA). In an industry once dominated by mechanical fastening methods like welds, bolts, screws, rivets, and clips, it's pressure-sensitive automotive tape — yes, tape — that has risen as an unlikely hero. 
How did we get here? Let's start by examining the unsustainable problems that have emerged with the old way of doing things: screwing stuff together.
Nuts & Bolts Are Counterproductive
Mechanical fasteners like clips, screws, and bolts just don't cut it like they used to. There was a time, to be sure, when car bodies made from predominantly mild steel benefitted from the security of rivets compared to the weak adhesive alternatives of the time. But puncturing panels for metal fasteners also creates a whole host of problems:
The weight of metal fasteners adds up.
What can be screwed can be unscrewed. Fasteners weaken, loosen, rattle, and buzz.
Punctures invite corrosion and rust streaks from degrading fasteners.
Chemicals and moisture cause fasteners to fail, seize up, or disintegrate over time.
Fasteners create focused stress points, requiring thicker, heavier panels.
It's time consuming to drill or tap holes, torque fasteners, and quality assurance (QA) check them all.
They require training and heavy, expensive equipment.
Rivets and bolts protrude, interrupting the aesthetics of smooth panels (even recessed holes would need to be covered).
"What about welds?" you might be asking. Surely welding is better than tape. In many cases, welding is an excellent solution that avoids the weaknesses of a fastener. However, welds also leave troublesome slag that requires filing and polishing prior to painting. Lumps and unsightly textures are sometimes unavoidable. Even more troubling is a unique challenge presented by modern vehicles: a lot of their makeup can't be welded.
Cars today are made with a plethora of dissimilar materials. According to SME, lightweighting in 2014 was supposed to be a steel vs. aluminum showdown. Nowadays, the consensus has moved towards synthetic and mixed material solutions, which are even less conducive to welds. McKinsey reports that carbon fiber, composites, thermoplastics, aluminum, and other lightweight materials are all key players in today's lightweighting effort.
Engineering.com projected a decade ago that, by 2035, less than half of a vehicle will be steel ("Today" on their chart is 2010). In steel's place, lightweight plastics, composites, and magnesium will take over.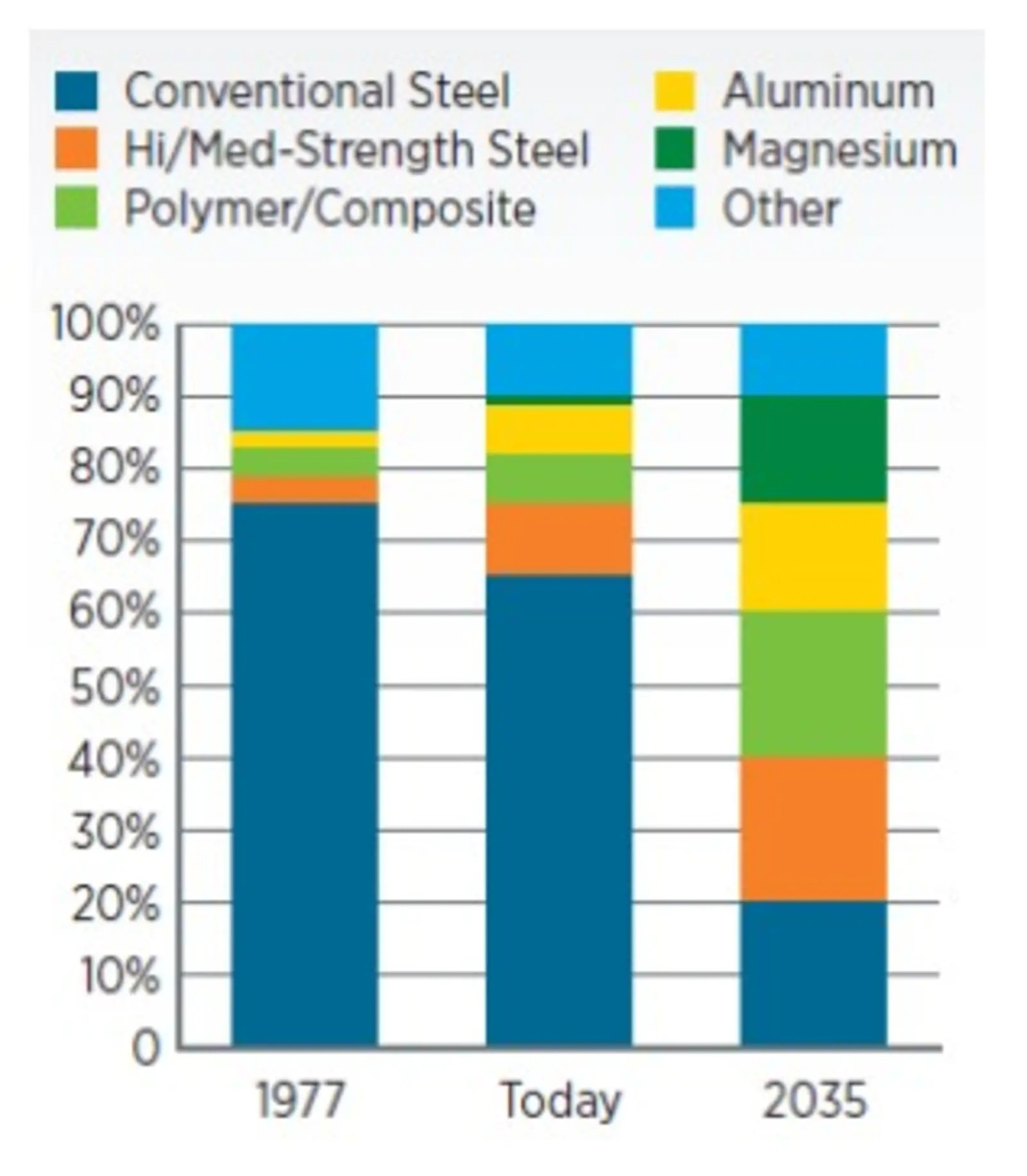 Not only are mixed materials incompatible with welds, but they also present complications to traditional fasteners as well:
Mixed thermal expansion ratios in dissimilar substrates.
Steel-on-aluminum galvanic corrosion.
Rattling and buzzing due to thin, lightweight components.
Increased risk of failure at fastener stress points.
Many of these issues are relatively unique to modern vehicles, where the rules of the game have drastically changed — and continue to change. There's a modern solution, too. Automotive pressure-sensitive adhesives have charged to the front line, outperforming mechanical fasteners while solving every one of the above issues with none of the drawbacks.
Automotive Adhesives Solve Every Pain Point
The changes in the automotive body have spurred massive growth in a rising alternative: automotive adhesives. Automotive adhesives — and PSA films in particular — have advanced far beyond the limitations of the popular imagination. DIY hobby tape solutions they are not. In fact, automotive PSAs and other adhesives now add value in every area where mechanical fasteners fall short. Let's run through the advantages:
Bond Strength: Tapes and glues now boast the strength to outlast the service life of the vehicle itself, never mind a mechanical fastener. VW started incorporating body-in-white adhesive bonding into some of their Audi models back in 2013 in place of welded joints. The results significantly improved crash safety. Modern, permanent adhesives require no maintenance and are generally stronger than the substrates they're bonding together. You're also not risking failures or distortion around discrete, over-stressed fastening points. Seals (from wind, water, sound) are also tighter with consistent, gapless automotive adhesive bonding.
Lightweighting: As little as a 10% decrease in automobile weight can boost fuel economy by 6-8%. Bolts are heavy. Tapes have negligible weight. Periodic punctures for rivets or bolts will weaken the integrity of a panel. PSAs provide consistent, even stress distribution across the full length of the bond. The result is that you can utilize thinner and lighter materials without sacrificing strength — in fact, you'll often gain rigidity and strength even as the vehicle gets lighter. Using thinner substrates often reduces weight even more than the absence of the fasteners themselves.
Noise and vibration: More lightweight materials reduce sound insulation and increase the noticeability of any rattling or vibration.  Why, then, have PSAs actually had a positive impact on NVH ratings? Rigid, full-surface bonds have helped to keep things quieter, for one. There's no need to re-tighten fasteners or worry about two substrates buzzing from inexact bonds. Furthermore, lightweight foam anti-vibration tapes have done wonders for dampening, cushioning, and diffusing vibrations, noise, and impact forces throughout the vehicle.
Cosmetics: Adhesives remain perfectly hidden between the two substrates to be bonded. Die-cut PSA tapes perform even better than liquid adhesives here, maintaining a sleek, flat exterior surface with no recessed holes, protruding fasteners, slag, or glue overflows.
Dissimilar materials: Differing thermal expansion ratios are a real problem when using mismatched materials. Buckling around fasteners can spell disaster. Not so for viscoelastic adhesive solutions, which stretch and flex to accommodate motion between the substrates as temperatures change (say, in the engine compartment or during a snowstorm), and restore to their original form when the environment returns to equilibrium. Today's hybrid body structures also demand solutions that can join problematic, unweldable components. As Mordor Intelligence observes, the use of mixed components "is expected to drive the demand for automotive adhesives tapes, due to their capability to join difficult-to-bond substrates."
Corrosion: No holes mean no unwanted entry points for moisture or corrosion, and no rust streaks from failing fasteners. Tapes also create a helpful barrier between unlike substrates, effectively preventing galvanic corrosion between steel and aluminum surfaces.
Line times: One-step automotive PSAs apply quickly, bond instantly, and require minimal (if any) equipment. They can also be die-cut to perfectly fit the application, avoiding dispensing errors that affect liquid adhesives. Welding, torquing fasteners, and waiting for glues or epoxies to cure slow down your cycle times. PSAs keep things moving, boosting productivity and accelerating production schedules.
Cost: Consider the cost savings of a solution that does not require any holes to be drilled or punched, takes nearly no training or specialized equipment to apply, and creates no danger in the environment. Add this to the savings of faster line times and PSAs make the perfect lean manufacturing value-add.
These are a few of the reasons that automotive PSAs and other adhesives have gradually replaced mechanical fasteners throughout the vehicle — but they won't be the last.
So Long, Fasteners
All of the advantages listed above have sparked massive growth in the market for automotive adhesives. The modern autobody simply demands a better way of doing things — a cheaper, faster, easier, more reliable, less problematic way. It should be no surprise that CAR Research has projected automotive adhesives to become the predominant joining process in the automotive body within the next 10 to 15 years: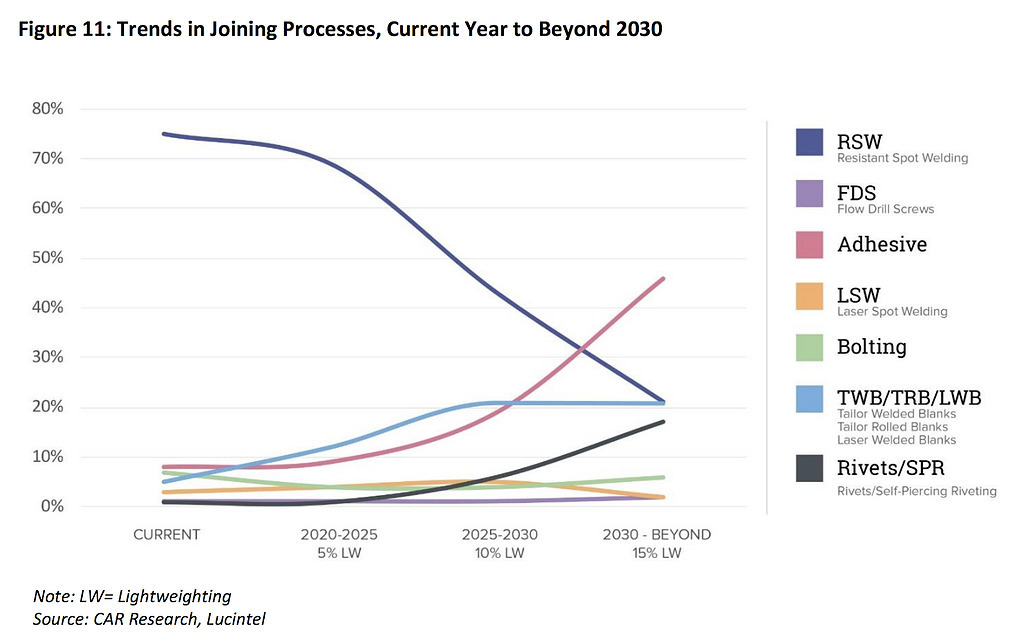 That's right — if current trends hold, adhesives (both liquid and PSA) will overtake welds, screws, bolts, rivets, and all other mechanical fastening processes combined. The death of the mechanical fastener is upon us.  While spot welds, clips, rivets, and the like will still remain an industry standard that's preferred in certain applications, fasteners have entered an era of irreversible decline. They may limp on for decades, but their time has passed. PSAs and their kin are here to stay.
Image Credit: Elvira Tursynbayeva / Shutterstock.com
How 125 Miles of Bookshelves Fit into the New York Public Library [A Byte Out of the Big Apple]
Next Story »
More from Industry Trends